184
Parks and Recreation - About Us
Meet the PARC Commissioners
PARC Commissioners
John Cooper
Timothy LaLonde
Melissa Hanners
Cindy Babisz
Mary Clark
William Foster
Dr. Geoffry Kusch
Peter Leto
Steve Simasko
Robert Wiley

Chair
Vice-Chair
Secretary
Commissioner
Commissioner
Commissioner
Commissioner
Commissioner
Commissioner
Commissioner
The general purposes of PARC shall be: 
To study and determine the extent of need for parks, preserves, parkways, recreation and other conservation facilities within the County. To develop cooperative planning efforts with the various cities, villages, townships and school districts concerned with parks, recreation and conservation services. To serve as an information center for local parks and recreation commission/boards. To prepare and recommend to the County Board of Commissioners the adoption of a comprehensive coordinated county-wide parks and recreation plan.
Administrative Staff and Park Maintenance maintains an office at Goodells County Park.
Dennis C. Delor, Director
Brad Brenske, Deputy Director - Projects and Training
Nate Kenner, Park Manager
Fred Houle, Park Manager
William Delor, Park Manager
Kelly Gardner, Office Coordinator
Debbie O'Neill, Office Coordinator
Jennifer Catanzaro, Marketing Specialist
Kirsten Lyons, Naturalist-Invasive Species Specialist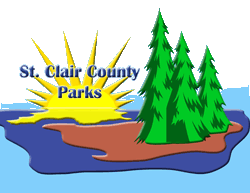 St. Clair County Parks and Recreation
8254 County Park Drive
Goodells, MI 48027
 
Frequently Asked Questions
FREQUENTLY ASKED QUESTIONS
---
Is camping allowed for my event?                                                                                                                                                     
Camping is only allowed for our large events with prior PARC Board approval.  Any vehicle left overnight is subject to towing.
Is there a cancellation policy?
            Yes, please refer to our Rules and Regulations
            Not allowed on a regular basis. Used for fair and other large events.
Can I bring my own grill?
            We encourage use of our on-site grills
When are the Historical Buildings open at Goodells County Park?
            Open during special events or by appointment through the Wales Historical Society or Farm Museum
            Not allowed
Do the parks have internet access?
            No
Are candles allowed for an event?
            Tea light candles only. Luminaries if battery powered and No Tiki Torches allowed
Is metal detecting allowed at the parks?
Yes, must repair any digging done. (Exception of Fort Gratiot Light Station and the cemetery at Goodells Park)
Do you spray for mosquitos?
            No
Yes, pets are allowed at all the parks and must be on a leash at all times. They are not allowed on the beach at Fort Gratiot County park.
When can I make a reservation for next year?
            Reservations are accepted up to one year from the date of any event.
Can I ride my snowmobile at the park?
            Not allowed at any County Park nor on our trails.
            We do not allow tents. We have may facilities available to rent for your event
How do I get the key for my building rental?
            Our park staff will have the building unlocked at the time indicated on the rental contract.
Can I put up a volleyball net?
            Yes, as long as it is placed in an open area near your rental.  Not allowed on the beach.
Can I pay extra to have my event past 10pm?
          No, the park closes at 10pm and everyone must be out by that time.